Reporting from Finland. From 8th to 27th September 2020, Astari G. Swatantri and Meira Rauta showed their botanical-themed jewelry in the jewelry exhibition 'Leaves & Love – Treasures of the Winter Garden'. The unique venue was Helsinki Winter Garden, a glass house built in 1893 with a wonderful botanical collection which was also the source of inspiration for the jewelry pieces this time. This exhibition was the continuation of their last year's Leaves & Love.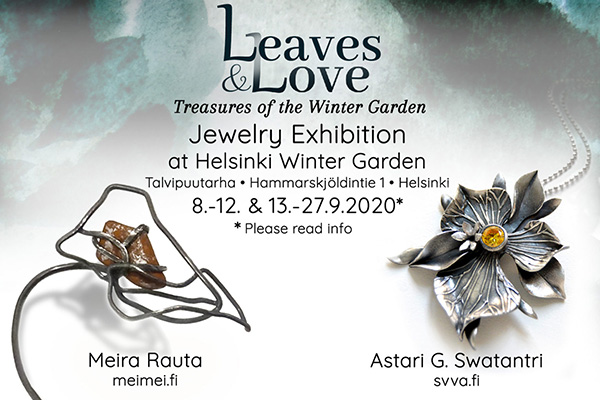 Both Astari and Meira are Art Clay Certified Instructors. Astari is an artist with background in architecture and active as the representative of Art Clay official distributor in Finland, and Meira has graduated for jewelry design. At the exhibition, both artists showcased different techniques, with notably beautiful Art Clay jewelry pieces.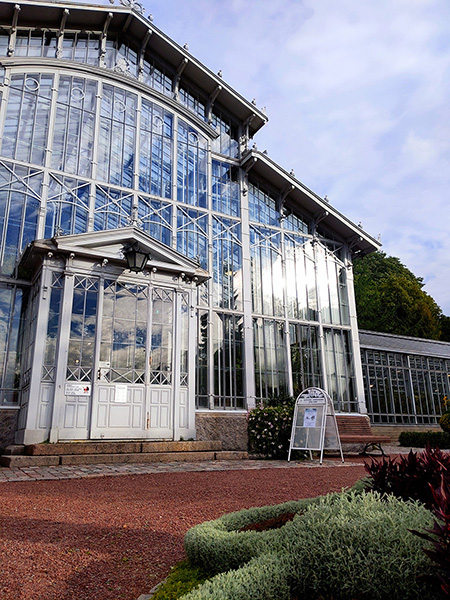 Here's what they shared about the exhibition
Astari G. Swatantri
"I and Meira are plant lovers and enjoy visiting the Winter Garden, so it's been truly wonderful to have our exhibition there. The name 'Leaves & Love Jewelry Exhibition' sums up our love for the botanical and jewelry world. When creating a piece inspired by a plant, I study it and translate what I feel about it into a sketch, and then into the three dimensional form. Art Clay is a fantastic medium since it allows me to shape silver with my hands to create organic forms and details to resemble nature's perfect imperfection. My love for plants started with the gardens of my parents and grandparents. Plants are essential for our lives, yet often they are overlooked and taken for granted. With the exhibition, my aim is to transform the beauty of the plants into wearable art pieces and hopefully that way I could bring interest and awareness to the plants diversity that we need to treasure."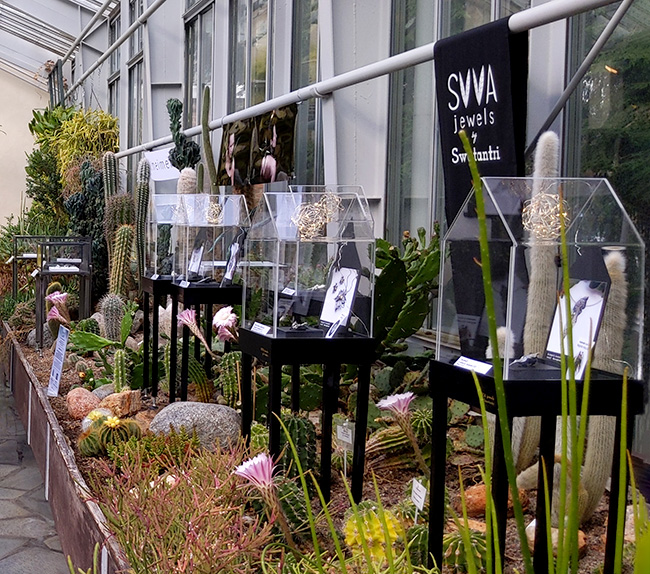 Meira Rauta
"Our event 'Leaves & Love – Treasures of the Winter Garden' has meant a lot to me. I'm so glad Astari got this idea to have our exhibition in Helsinki Winter Garden, "Talvipuutarha", last year (titled just 'Leaves & Love' then). We were so excited to have it again this year, and now it was especially connected to the plants of Winter Garden. When designing my exhibition pieces, I didn't want to just copy the plants, but instead find some detail or feeling behind the particular plant that would inspire me. There is one exception though: a sculpture / jewelry (a necklace and an earring) I made a couple of years ago which was inspired by different aloe species growing at Helsinki Winter Garden; it was made to look pretty much like a real plant. Other pieces, which are all made for this exhibition during the spring and summer of 2020, vary on how much they remind the original plant.
An example 'Juuri siinä' got inspiration from lavender and the plant diversity in common. I used roots of a lavender and both 925-silver and Art Clay Silver 950 to make a ring part look like a part of those roots. All plants (almost) have roots, and also we humans have roots somewhere. The name of this ring 'Juuri siinä' is playing with Finnish words: "root" in Finnish is "juuri", but juuri and "juuri siinä" especially can mean "just there" or "right there". Apart from having fun with words, name of this ring means to me also that it's great to be right there where I am in my life at the moment. 'Juuri siinä' is one good example why I like to make jewelry – and what art jewelry can be like. It can be a beautiful object or even a sculpture, but the right name (which you just know when it comes to you) can give a whole new dimension to that piece, or it can make people stop and think things deeper or from different perspective. I'm glad if someone likes my jewelry by the look, and sometimes esthetic values are all I've been thinking of, but sometimes the name can be even more important. Perhaps also the name of our exhibition 'Leaves & Love – Treasures of The Winter Garden' tells us and tells our audience what a treasure nature is and we should value and protect it more!"
Here are a selection of their exhibited pieces
---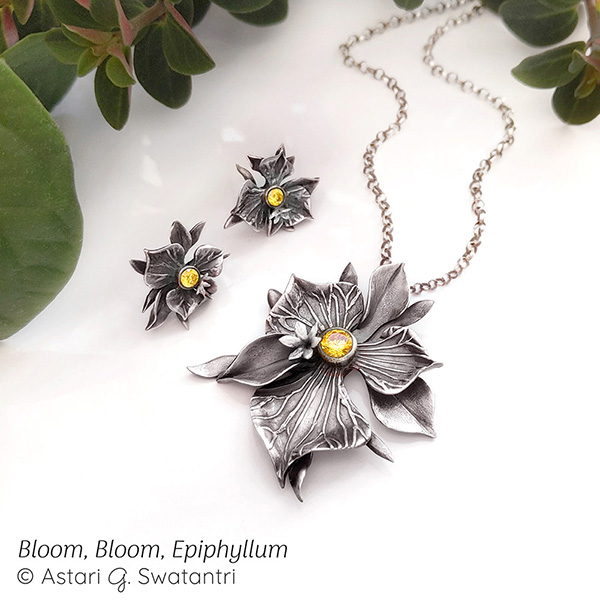 Astari G. Swatantri
'Bloom, Bloom Epiphyllum'Inspired by EpiphyllumPendant & earstuds, Art Clay Silver & cubic zirconia. There's this enchanting, mesmerizing beauty about Epiphyllum, and that was the reason I chose it from the plants list as my inspiration. Every part in this piece was handsculpted using Art Clay Silver. The little flowers next to the stones on the earrings are the tiniest flowers I've made so far, each is only about 3mm in diameter.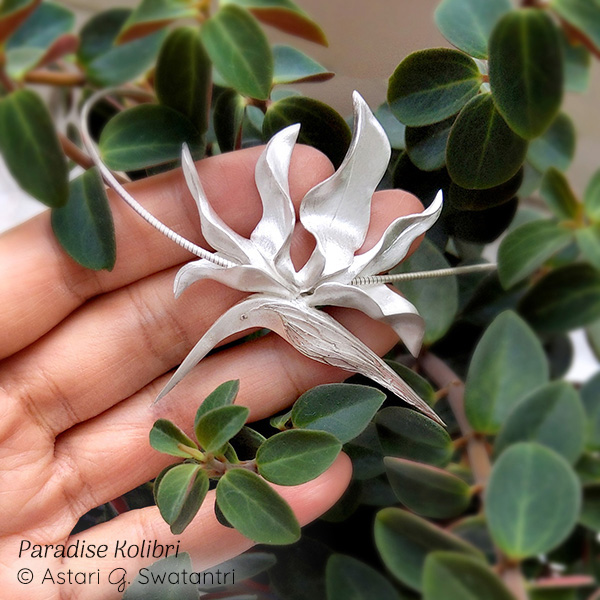 'Paradise Kolibri'
Inspired by Strelitzia reginae
Pendant, Art Clay Silver & cubic zirconia. Strelitzia reginae plant got the most votes as the inspiration plant on my Instagram page. There's a vibrant energy radiates from the colorful plant with a pretty complex structure. It's called The Bird of Paradise in English and Kolibrinkukka (Kolibri flower) in Finnish. I created this piece so that it can look like a plant or a bird, a 'Paradise Kolibri' bird.
---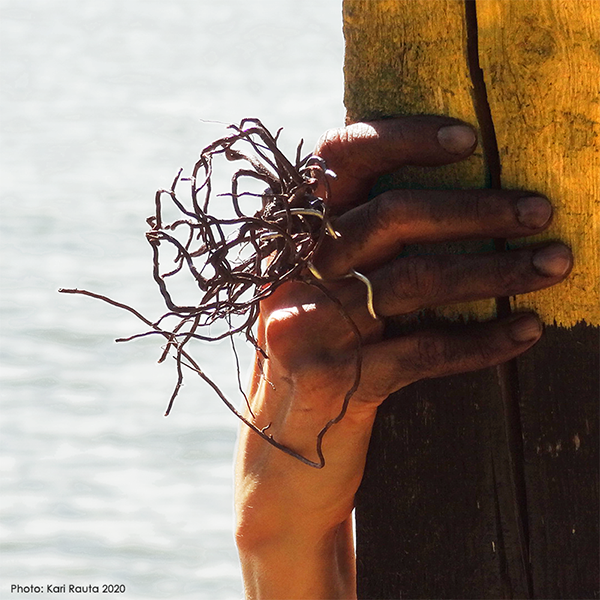 Meira Rauta
'Juuri Siinä'
Inspired by roots of the lavender/Lavendula (Laventelin juuret in Finnish)The ring part I made of 925-silver and some of the roots from ACS 950. It was really lovely to form and it was easier to make for a snake shape (and form and bend it as a snake) than ACS (999) and because of the additional copper 950 is also stronger than ACS after firing, which I like. ACS 950 was ideal to use as a part of jewelry in this project, as it's so handy to shape any forms you like and in this case make "a rootlike" part. Also, I can't help how much I love the feeling of shaping the soft ACS!
'Shadow'
Inspired by Begonia x corallina, Angel Wing Begonia, or Enkelinsiipibegonia in Finnish.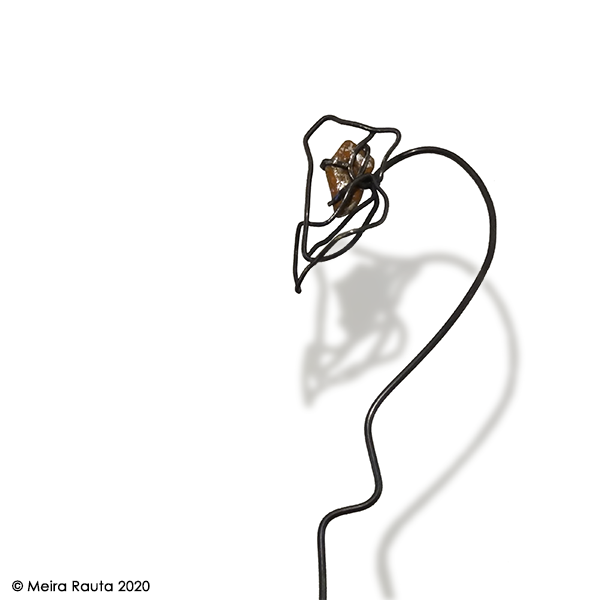 It's made of 925-silver wire, but at the self-made "stone" I've used also ACS. I made material experiments at my Thesis when graduating for a jewelry designer and material for this "stone" is result from those experiments. This particular piece is one of the left over pieces for other jewelry I made year ago to Astari's and mine first Leaves & Love -jewelry exhibition at the Helsinki Winter Garden. It gave a heart for this 'Shadow' brooch.
---
To see more of their work, visit their websites and Instagram pages: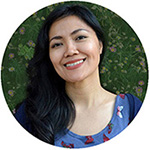 Astari G. Swatantri
svva.fi • instagram.com/svvajewels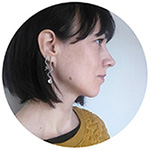 Meira Rauta
meirarauta.fi • instagram.com/rautameira
---
Art Clay Overseas Division would like to congratulate Astari and Meira for the success of their exhibition!
For more information about Art Clay in Finland, please contact
Art Clay World Finland Hopeasavi.fi
Reported by Yutaro Takeuchi (Art Clay Overseas Division, Aida Chemical Industries Co., LTD)
---