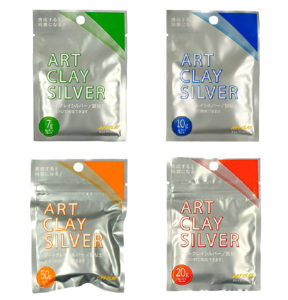 Art Clay Silver Clay Type
This type can be modeled in the same way as regular water-based clay. Once opened, it is susceptible to the air and must be kept moist in order to retain its pliability and workability. Use a container of water and a paintbrush to moisten any areas of the clay surface that begin to crack while working.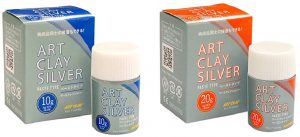 Art Clay Silver Paste Type
The only difference between Paste type and Clay type is the amount of water portion in the mixture.
Paste type comes in the consistency of melted ice cream and you should only transfer the amount needed from the jar to a small tray and dilute with water to create the desired thickness.
It is used in several ways:
As a glue to join two pieces of dry or wet clay together.
As a gap-filler for pits and cracks that appear in dried pieces.
To attach silver findings (screw eyes, bailbacks, brooch findings, etc.) to dried or wet clay pieces. During firing, the normal contraction of the clay bonds the findings.
When applied in separate layers onto organic forms such as leaves, dried flowers, paper-origami, etc, Paste type creates a perfect impression of the form.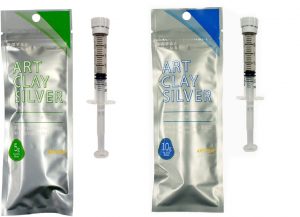 Syringe Type
Art Clay Silver Syringe type is 5gm and 10gm of Art Clay Silver in a pre-loaded syringe. Syringe type comes packaged in three ways: with color-coded tips (blue, green and gray), each an increasingly larger diameter; a one tip (green nozzle) package; and packaged without any tips. Each of the tips is reusable and only needs to be purchased once. The diameter of each syringe nozzle is; Blue Nozzle: 0.41mm, Green Nozzle: 0.84mm, and Gray Nozzle: 1.19mm. The consistency of Syringe type is totally different from that of Paste type and it is not to be thought of as just paste in a syringe. Syringe type is thicker, more controllable and allows more workability. It is used in several ways:
To decorate pieces, much like using cake decorating tips. Lines, filigree, faux cloisonné borders, and even hollow balls can be made with Syringe type.
As a repair "glue" to fill cracks and gaps.
To attach findings to wet or dry clay pieces.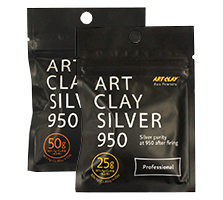 Art Clay Silver 950
The new choice for Professionals! High strength, high hardness silver alloy metal clay is here! Art Clay Silver 950 comes in a pre-mixed clay form enclosed in a jet-black package. This is a newly designed clay that combines hardness with strength.
More Strength:
Surface hardness, and bending strength of Art Clay Silver 950 is approx. 60% stronger than regular Art Clay Silver. Results may vary depending on firing and measuring conditions. Because of its high strength, it allows for more design options and durability especially for works that are thinner, narrower, open ended (ring and cuff) and delicate, etc. The finished silver surface is more resistant to scratches. This makes it a more suitable product for professional artists who gift or sell their works. It also has a unique silver color.
Pre-mixed Clay form:
Molding and drying process is exactly the same as with the current Art Clay Silver Clay Type. The clay comes in AIDA's high quality, ready to use pre-mixed clay form, so you can start working right after unsealing the package.
Clay components ratio, Shrinkage and Purity after firing:
90% of the clay is Silver and copper alloy powder, and 10% is binder and water. It shrinks a little more than regular Art Clay Silver series. Purity after firing is Silver 950. Shrinkage after firing: Approx. 11-13%.
Art Clay Silver Slow Tarnish (ST) Series
The Art Clay Silver Slow Tarnish (or ST) series comes in three basic forms, Clay type, Paste type and Syringe type. Silver products, whether they are made of pure silver or sterling silver (SV925 or 950) have a tendency to tarnish due to the chemical reaction between the metal and the air. Although Art Clay products tarnish slower than sterling silver, a piece made of ST series tarnishes even slower than any other Art Clay series products. A piece made of Slow Tarnish clay can maintain its shine even longer with regular jewelry cleaning. The ST series remains 99% high quality silver after firing. It fires at one temperature setting of 800℃ / 1472˚F for 30 minutes.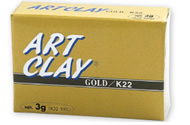 Art Clay Gold Clay type
Art Clay Gold Clay is a water-based gold clay that can be modeled in the same way as with the other Art Clay series products. It will transform to high quality 22-Karat gold after firing and contracts about 15% during the firing process.
Fire at 990℃ / 1814˚F for 60 minutes. Available in 3 gram packs of clay.
Art Clay Gold Paste type
Art Clay Gold Paste comes in a viscous liquid form, so that you can add texture or draw directly on the surface of Art Clay Silver (fired piece), ceramic, porcelain and/or glass. 77.5% of the indicated weight is 24-Karat gold, and will become 22-Karat gold after firing. Art Clay Gold Paste comes in two bottles. One has 1.5gm of thick paste; the other contains a 5ml medium that is used to dilute the paste to a more workable consistency on glazed surfaces.Fires at 800℃ / 1472˚F. The holding time will vary depending on the combined material.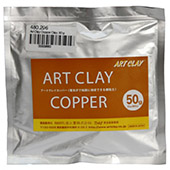 Art Clay Copper
Art Clay Copper is the newest product in our range and is a clay material that can be utilized to make a wide range of pieces such as jewelry, craft designs, and objects like sculptures and models. Art Clay Copper can be fired in an electric kiln with or without using carbon, with the resulting fired piece being more than 99.5% pure Copper.
(The percentage of copper in Art ClayTM Copper still in the clay state is 90%.)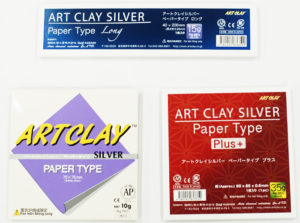 Art Clay Paper Type
Art Clay Silver Paper Type is a material designed to bend and fold easily without the need to add water. By simply using a craft punch, scissors, or cutters, you will be able to cut the material easily and precisely. Similar to Art Clay Silver Clay Type, Paper type becomes 99.96% pure silver after firing.
Art Clay Silver Paper Type 10g (white and purple package), Art Clay Silver Paper Type Long 15g (blue package) and Art Clay Silver Paper Type Plus 35g are available.
Overlay Silver Paste
This Art Clay product is specifically formulated to bond to non-porous or glazed surfaces such as ceramic, porcelain, and glass. Overlay Silver Paste can be used in a variety of ways:
Paint directly, full strength, onto bisque, glazed porcelain or glass pieces.
Used in a technique called sgraffito, whereby a thin layer of Overlay paste is applied to the glazed porcelain or glass, allowed to dry, and then a pointed tool is used to scratch a design into the layer so that the porcelain or glass beneath appears, giving a stenciled look. This product is fired at 650℃ / 1202˚F for 30 minutes.