The Art Clay World Europe standard curriculum is a region-wide educational system designed to give you all the necessary skills and techniques to work with Art Clay Silver. These courses offer you a step by step guided instruction taught by experienced, accredited teachers, helping you to make your own creative inspiration a reality.
The full curriculum for your region, including where to find classes and submission details, can be obtained from your local distributor.
There are currently three levels to the Art Clay Certification. In order to create a standard curriculum throughout Europe, the names of each level have been revised and each stage is explained below.
Art Clay Level 1 Diploma – 6 Projects
This is usually a 2 - 3 day class, consisting of 6 simple projects which will acquaint the student with basic techniques and Art Clay Silver products.
This Diploma gives the student 15% discount on all Art Clay Silver products purchased from a Distributor.
Basic preparation of work surface and tools
Roll out AC to produce a sheet of even thickness
Creating a surface texture from a texture mat
Placement of bail back hanging attachment
Handmade bezel (3 methods from AC syringe and clay)
Firing of CZ stones
Smoothing and finishing before firing
Finishing and polishing after firing
Introduction of how to use Art Clay Silver Paste Type
Transferring a natural texture
Finishing a fine texture
Basic technique for attaching findings
Making a core out of Cork Clay
Attaching a flat screw eye
Using the Syringe to make a hollow object
Firing a hollow object
Finishing of hollow objects
Attaching earring findings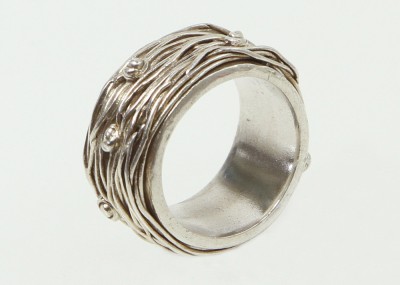 Making a flat band ring
Selecting correct ring size
Decorating with AC syringe
Filing for pre-finish
Finishing the syringe lines
Shaping AC over a support mould
Creating a texture from AC paste
Stone setting with a fine silver readymade bezel
Attaching brooch findings
Mirror finish on part of the piece
Creating a mould from 2-part silicone using an existing object
Making a round profile ring
Brushed surface texture
Combining dried Art Clay components
Setting of a natural pearl
Art Clay Level 2 Diploma – 4 Projects
This is usually a 2.5 - 3 day class covering 4 complex projects which refine skills, deal with specific design issues and introduces a perfect mirror finish.
This Diploma gives the student 20% discount on all Art Clay Silver products purchased from a Distributor.
Making a D-shape profile ring
Modelling soft clay by hand and with simple tools
Engraving with a file
High gloss mirror finish
Patina effect
Fusing a glass cabochon
Decorate a glass cabochon with AC overlay paste
Firing glass together with Art Clay
Using a pin vice to flush set a CZ stone by hand
Making an attachment from AC modelling clay
Making a bezel with fine silver flat wire
Setting a natural stone in the bezel
Attaching a flat bail back or deep-set brooch findings
Creating textures on an unfired AC surface
Gilding part of the surface with 24k gold foil
Special patina effects
Rolling out AC copper clay to an even sheet
Texturing and decorating the copper clay
Create a framed openwork syringe piece
Making your own bail from copper clay
Firing copper clay
Balling up fine silver wire
Riveting
Level 1 and 2 Diploma
projects are all technique based; meaning both the instructor and student have some freedom when it comes to the design of the piece. The instructor will advise regarding feasibility of the student's design and ensure that all required elements are incorporated to successfully demonstrate the correct level of ability.
Three sets of criteria, for each project, are listed in the curriculum class documentation. Each project will be evaluated by the instructor who will score them with 1 - 5 points; from 'failed' to 'outstanding'. The standard expected score would be 3, with 5 only being awarded to absolutely perfect execution of all the specified techniques. The scoring system is designed to help the student understand their strengths and weaknesses and develop their skills further. The student must remake the item if they score 1 for any of the criteria. It is left to the discretion of the teacher to request a remake if 2 is scored for any part.
After completion of the class the instructor will take good quality photos of all student work and send them with the evaluation form and application to the local distributor who will issue the certificate.
Evaluation of the Instructor
At the end of each class students will be asked to complete an on-line form to evaluate the instructor and the class.  A link to the form will be sent to each student by the assessment team, ensuring that a high level of quality teaching for every student can be monitored and maintained.
Art Clay Higher Diploma – 3 Projects (similar to former Art Clay Instructor)
Students will be required to submit 3 pieces of independently created jewellery incorporating specific criteria. This can only be undertaken once the Level 2 Diploma has been completed and a certificate has been issued, but no sooner than six months after passing Level 1.  Students must also prove ownership of a suitable kiln.
This Diploma gives the student 30% discount on all Art Clay Silver products purchased from a distributor.
The assessment of the 3 pieces of jewellery will be made by a panel of 2-3 high level instructors chosen by Aida as independent assessors.  They will be Art Clay instructors, Teaching Diploma holders, Senior Instructors or Master Instructors.
Each applicant should submit their work to their local distributor who will take photos of the work and present these images to the panel.
Each piece will have 5 criteria scored by each member of the panel.  These will then be collated and an average score will be noted against each criteria, as per the guidelines for Level 1 and 2 Diplomas. Any piece with a criteria scoring 2 or lower will fail and require a remake of that piece.  Feedback, including scores, will be given to the student together with detailed recommendations on how to pass any failed pieces.
You need to submit 3 original pieces of Art Clay Silver (ring, pendant and brooch) applying the following criteria rigidly. You have 3 months (90 days) from the successful completion of your level two course to submit your assessment pieces. The designs should be your own and should be completed independently. The pieces will need to fulfil the following criteria:
Assignment 1 -   RING
The finished ring must be in a UK size N or equivalent (eg. Japanese size 13, USA 6.5)
Ring band must be made using a rope of clay, to a "D" shaped cross section or profile.
One or more faceted synthetic stones must be set level and securely into the ring
Grooved design must be shown
Oxidization must be applied to the piece
Seamless, flawless high shine mirror finish inside and out
Assignment 2 - PENDANT
Natural stone must be set in a bezel made with fine silver flat wire
Pure silver flat screw eye or bail back must be attached for findings
Mirror finishing must be achieved
Finding and chain must be attached
Assignment 3 - BROOCH
Both Clay and Syringe type must be used
Art Clay exclusive brooch screw-in type findings must be used
Clay must demonstrate even and consistent thickness
Include patterned open-work section made with Syringe lines